Alright you guys... I did some very very very small works on the Noir.... pls take a look.. thanks.. again, i have to disappoint you guys as no major works are included in this build ..

First off, did some detailing on the shoulders.. nothing fancy, the usual plating...



and the arms ...


The forearms plating haven't been beveled yet... but i did beveled the eh... is that triceps ???


right ..these are the thighs


as you guys can recall, i did the thigh extension and as you guys can see from the photos, that leave a pretty wide gap after extension so I had to cooked up that for appearance sake.. I DO HAVE TO DO SOMETHING ABOUT THAT UNEVEN SLIDES though..

right... here are the skirts



didn't do much... just put on plates .. I am still debating about panel-lining... I'm kinda lazy to do that..
Well.. that's all for this first part of the update ... If i disappoint you with this simple update, then i do apologize....
For the 2nd part, the first thing i did is the rear skirts ... put in some internal details ..

Didn't want to put in too much so I just put in only this much

next - I put in a bigger head crest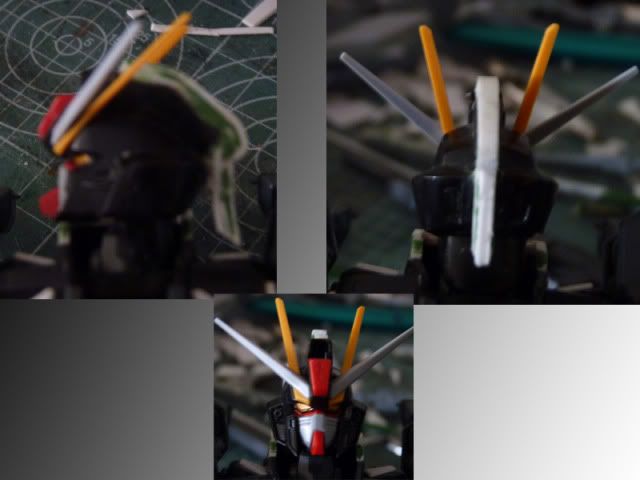 I was watching Cleopatra and I have always dig those roman/greek helmets with large crests... and as you can see, i just put in one..

thirdly - I put in some plates on the wings ...


It wasn't anything big or serious.. .but for some reason, I love that lower plates with the holes... kinda look like vents to me..

finally - i did soething about the gaps i have on the thighs...




That trick was, I just cut out strips and glued then, beveled them. and try to blend with the kit... It look messy now cos I primed it to see if it needs fixing and clean up... boy, it needed clean up alright... anyway... i'm quite happy with that i get there...

Again.. this is not some major update so I do apologize for those who were expecting heavy works... this is nearing completion and i don't want to stress any more major works...

Thank you for reading and stay Tuned...